Jane Candia Coleman
On the Mueller-Schmidt House
Ford County Historical Society friend and author, Jane Candia Coleman, sent a letter concerning her visit, with husband and historian Glenn G. Boyer, to Ford County's "Home of Stone"--the Mueller-Schmidt House (1881). Jane writes: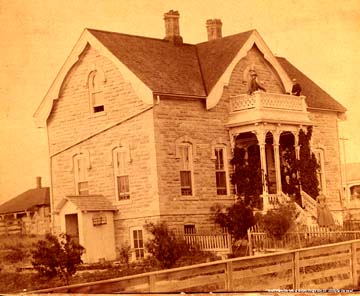 The John and Karoline Mueller family on Emelia Mueller's wedding day, June 12, 1889, Dodge City. John and son Henry on balcony; Emelia on lower step; Karoline and groom, John Chambliss, on porch. Courtesy: FCHS.
     "Just a note from Glenn and me to say how much we appreciate Dodge City and the Home of Stone (the Mueller-Schmidt House). What's been done there is impressive and tasteful. Preserving our heritage and our history is vital--the more so for Dodge which played such a large part in the building of the American West.
     "Our history is not composed only of outlaws, lawmen, and the visible heroes. There were, in addition, others going about their lives and businesses, and who were every bit as important. The "Home of Stone" has brought some of these to life, and I, for one, am grateful. I learned much from the exhibits there. Keep up your fine work!"