The Hinkle-Heinz House (1881)
Dodge City, Ford County, Kansas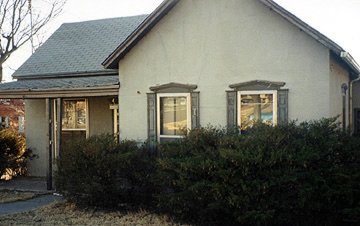 The city of Dodge City-owned George T. Hinkle house, previously being considered for demolition and replacement with a parking lot, may be the oldest house of its type in the city. The house, located at 801 First Ave., was built or moved to this location between 1879 and 1882. The FCHS requested further consideration before the city proceeded. The house is now being protected and will be preserved.
     Research presented to the Dodge City's Historical Preservation Committee by FCHS board member Dennis Veatch, Dodge City development administrator, indicates that Hinkle purchased the property from the Dodge City Town Co. in 1878 for $44.50. He married in 1882, and added his wife's name (Annie C.) to the deed for the "consideration of love and affection."
     The house is not shown on the 1878 bird's eye view of Dodge City but is on the 1882 view. The original floor plan appears to be three rooms: a parlor, one bedroom and a kitchen.
     Mr. Hinkle, bartender for George M. Hoover's saloon and wholesale liquor store, defeated W.B. 'Bat' Masterson for Ford County sheriff in 1879. He served two terms from 1880 to 1884. He was on the losing side in the Saloon War of 1883 against Luke Short and his company of gunmen, including Masterson and Wyatt S. Earp, among others.
     George Hinkle's son, a professional boxer named Max, later wrote about Bat Masterson and they became friends. When Max first met Bat, he stated, "I always wanted to met the man my father beat for sheriff." Masterson replied, "Clearly you are George Hinkle's son--which one of the women was your mother."
     George Hinkle sold the house to Charles Heinz in 1883 for $1,800. Mr. Heinz was the owner of the Lone Star Saloon. In 1885, Kansas prohibition law forced him to change the name of the saloon to the Delmonico Restaurant.
     Heinz mortgaged the house to George M. Hoover in 1883 for $2,500. This mortgage was paid off in 1884, but another to Jacob Collar in 1886 for $1,000 was never paid. Collar was granted the deed to the property in 1891 through foreclosure. Collar and his brother, Morris, were successful Front Street merchants. They had moved to the Western frontier from Hungary. Collar, who may have never lived in the house but most likely used it as a rental, died in 1893. His widow, Jennie, owned the house until her death in 1899.
     This little house is very similar in appearance to another house that was located across from it on First St. and has a documented history of being the oldest house in Dodge City. Originally built in 1864, it burnt down in 1930, having survived moves from Abilene to Salina, to Ellsworth, then to Fort Dodge. It was moved into Dodge City in 1878.
     Harry E. Chrisman's Lost Trails of the Cimarron and Robert M. Wright's Dodge City, the Cowboy Capital, both document its history. Dennis Veatch speculates that it may be possible that more than one house was moved from Fort Dodge, but no current evidence proves that point.
     Many additions to the house are not historical and are removable, including the garage already removed. However, the storm door, the windows and other features on the three-room front portion seem to be original. Saving this house has been one successful preservation project of the FCHS.
(© 2002, Ford County Historical Society, Inc. George Laughead Jr., author.)