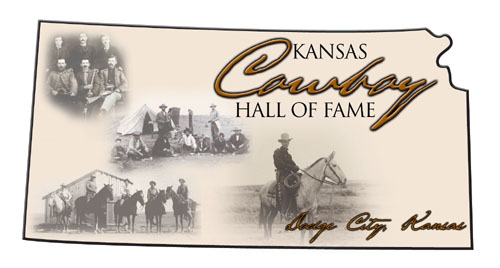 Kansas Cowboy Hall of Fame
2010 Awards
Boot Hill Museum
Dodge City, KS
Five legendary Kansas cowboys were honored for their contributions to the western life as they are inducted into the Kansas Cowboy Hall of Fame in Dodge City.
2010 Kansas Cowboy Hall of Fame Inductees:
David Dary -- Cowboy Historian
Fred Germann -- Rancher/Cattleman
Earl Kuhn -- Cowboy Artist
Merv Wilson -- Working Cowboy
Sonny Worrell -- Rodeo Cowboy
The Kansas Cowboy Hall of Fame is a project of Boot Hill Museum Inc. and was developed to preserve and honor the life of the Kansas cowboy. The Kansas Cowboy Hall of Fame past inductees' photographs and biographies are on display in the Kansas Cowboy Hall Of Fame Gallery at Boot Hill Museum.
Each inductee represents a different area of the life of the cowboy: Working cowboy, cowboy historian, cowboy entertainer, rodeo cowboy and rancher/cattleman.
---
Kansas Cowboy Hall of Fame Awards 2009
The five inductees and their respective categories are:
Bill Barnes, Elkhart, KS - Working Cowboy
Harold Dawley, Dodge City KS - Cowboy Historian
H. Russell Moss, Coffeyville, KS - Cowboy Entertainer/Artist
Wayne Dunafon, Westmoreland, KS - Rodeo Cowboy
Duane Walker, Canton, KS - Cattleman/Rancher
Kansas Cowboy Hall of Fame Awards 2008
The five inductees and their respective categories are:
Asher Crowley, Leoti, KS - Working cowboy.
Don Rowlison, Studley, KS - Cowboy historian.
Marion "Mac" McLain, Sun City, KS - Cowboy entertainer.
John McBeth, Andover, KS - Rodeo cowboy.
Alfred Barby, Meade, KS - Rancher/cattleman.
Kansas Cowboy Hall of Fame Awards 2007
Here are capsule biographies of 2007 inductees, courtesy of Boot Hill:

Melvin Fields, working cowboy, won the bull-riding competition during his first rodeo in 1954 at Altamont. Two years later, he won the all-around competition at the Kansas High School Rodeo Finals and came in second at the nationals in Reno, Nev.

He began his clown career in 1958, working with famous clowns John Lindsey, Bobby and Gene Clark, Jerry Olsen, Kajun Kidd, Junior Meek, Buck LeGrand and Wiley McCray.

From 1961 through 1963, Fields competed only in weekend rodeos while he was stationed at Redstone Arsenal in Huntsville, Ala., with the U.S. Army. Then from 1964 until his retirement in 1971, he won numerous riding events and placed 11 times in bull riding at the Cheyenne Frontier Days Rodeo. After retiring, he became a rodeo judge and coached at Coffeyville Community College from 1982 to 1984.

Dan Casement, Cowboy historian, grew up in Ohio but later lived in Colorado, where he ran a ranch and helped his father build a railroad.

Casement's father gave him some land in Kansas when he was 21, but he did not become the resident operator of Juniata Farms at Manhattan until 1915. He served his country overseas in 1917 after America entered World War I, even though he was 49.

Casement was a founder of the American Quarter Horse Hall of Fame and one of the first two Kansans to be inducted into the National Cowboy Hall of Fame. He wrote extensively for the American Hereford Association, where he was an honorary lifetime member, and served as an expert for the National Cattlemen and Kansas Livestock Associations. He died in 1953.

Buck Mead, Cowboy entertainer, worked on many ranches in Kiowa County, including the Robbins, Greenleaf, Parkin and Pyle operations. He also ranched in Clark, Comanche, and Ford counties and worked for the late George Broadie. He was primarily a working cowboy, but he did participate in team tying and calf roping in some rodeos.

Mead moved to Kiowa County in 1981 and was a member of the Kiowa County Saddle Club.

He was named "Outstanding Cowboy" at the Clark County Fair Parade in 1987. The next year, he was named "Cowboy of the Year" by the Cowboy Supply Store in Greensburg, which celebrated "Buck Mead Days." Mead died Oct. 14, 1995, a few days before his 81st birthday.

Lance Brittan, Rodeo cowboy, began riding bulls when he was 19. He got off to a rocky start, but his career took off when he switched from bull riding to bullfighting. He had earned professional status by December 1995, and he became eligible for the Wrangler Bullfighter Tour in 1997. He qualified for the finals the next year, becoming one of the top six bullfighters in the world.

He was only in his fourth year as a professional in 1999, when he competed against four former champions in the Wrangler Bullfighter Tour Finals and won the championship.

Brittan still bullfights and protects cowboys in top rodeos around the country, including the Denver National Western Rodeo, the Greeley Stampede and the Dodge City Days PRCA Roundup Rodeo.

Bill Kurtis, Rancher/cattleman, began his television career as an anchor at WIBW-TV in Topeka, where he gained prominence when a tornado hit the city in 1966. After warning his viewers to take cover, he stayed on the air for 24 hours covering the story.

He later moved to Chicago to work at WBBM-TV News, then joined CBS as anchor for the CBS Morning News in 1982. Three years later, he returned to Chicago to produce documentaries for the series "The New Explorers," and he served as an anchorman for WBBM until 1996.

Kurtis started his own production company, Kurtis Productions, in 1990. The company produces shows for the A & E network, where Kurtis frequently hosts and narrates "Cold Case Files" and "American Justice."

Kurtis has been active in promoting and raising grass-fed beef since the early 2000s. He owns the 10,000-acre Red Buffalo Ranch in southeast Kansas and founded the Tallgrass Beef Co.
Kansas Cowboy Hall of Fame Awards 2006
Thomas Finney, Plains - Working Cowboy
Thomas Clinton Finney was born Dec. 20, 1913 at Paxico, the second child of Thomas Arthur and Bertha McGrew Finney. Shortly after he graduated from Paxico High School in 1931, his father passed away. While his mother and the rest of the family moved to Topeka, he went to work for his uncle, Karl Miller of Miller Herefords, in Belleville, where he looked after the registered herd.
In 1934 Tom went to work for the Brian Mitchell family on their sprawling ranch near Marfa, Texas. After about a year, he returned to Wabaunsee County and went to work for R.E. Adams Sr. of Maple Hill. In 1938 Mr. Adams sent him to his ranch in Meade County, Kan., and Beaver County, Okla. After Mr. Adams' death, Finney continued to work for R.E. Adams Jr. This was the beginning of a wonderful relationship that lasted until Tom's death.
In 1940 he married a girl from a neighboring ranch, Mary Anshultz, granddaughter of "Doc" Anshultz. Though their children are deceased, he has two granddaughters, Sarah Befort of Hays and Amy Marrs of Pittsburg, who were his pride and joy. In 1968, the couple moved to the XIT Ranch headquartered south of Plains, where they lived in the house built by X.I. Robert in 1892. Tom was always a fair and understanding boss. Over the years, so many of his employees have returned for events and stay in contact with his widow. Riding a good horse on an early morning round-up on the XIT Ranch was always a thrill for him. Both Oklahoma State University and Kansas State University sent people from other countries to the XIT to experience first-hand a working ranch. Tom Finney passed away Jan. 2, 1996.
Harry Chrisman, Liberal - Cowboy Historian
Harry E. Chrisman was born on his father's ranch near Lillian in Custer County, Nebraska on Feb. 7, 1906. He attended school in Broken Bow and graduated from Scottsbluff (Neb.) High School in 1921. On Oct. 20, 1942, he married Catherine Bell in Scottsbluff. Later that year he joined the U.S. Army and served in the Pacific Theater, being discharged in 1945. After the war, he studied at the Rochester (New York) Institute of Technology, where he later received an Alumni Achievement Award, and he attended the University of Denver. In 1947 he worked briefly as a salesman for the Delta County Independent of Colorado. In 1948 he began selling ads for the Southwest Daily Times in Liberal.
Chrisman wrote his first book, Lost Trails of the Cimarron in 1961, which topped The Western Writers of America Rating Sheet. He retired in 1965 from the newspaper business and moved to Lakewood, Colo., to write full-time. His specialty was non-fiction westerns, writing, or collaborating on, 11 books. Another book to be rated first by the WWA was The Ladder of Rivers, The Story of I.P. (Print) Olive in 1962. Two other of his notable books were The 1001 Most-Asked Questions About the American West 1982; and Tales of the Western Heartland 1984. On Dec. 17, 1993, Harry E. Chrisman died at the age of 87. His life was colorful, as he had many occupations. Among them were horse-wrangling, working as a cowhand, employment as a telephone lineman and working as a shipping clerk and a salesman.
Milburn Stone, Burton - Cowboy Entertainer
Milburn Stone was born on July 5, 1904, in Burton, where he spent most of his childhood. After graduating from high school, he received an appointment to the U.S. Naval Academy. Choosing a career in acting, he declined the appointment. Stone started out in vaudeville. He traveled with his first wife, Nellie Morrison, whom he married in Delphos in 1925. They had a daughter, Shirley, who resides in California.
Milburn was related to well-known Broadway comedian, Fred Stone. Though the family called him "Uncle Fred," Fred was actually a cousin. He helped Milburn get his start on Broadway in the play "The Jayhawkers." In 1935 Milburn began a career in movies. Soon after, in 1938, Nellie died. In 1942 he married another Kansan, Jane Garrison, in Hollywood.
Milly, as he was nicknamed, appeared in more than 150 films, but is best known for his 20-year role as "Doc Adams" in the TV show "Gunsmoke." He was one of only two actors who stayed during the entire run of the series. In 1968 he was awarded an Emmy for his role as Doc. When the show ended in 1975, Stone retired.
On June 12, 1980, Milburn Stone died of a heart attack in La Jolla, Calif. He posthumously received an honorary doctorate from St. Mary of the Plains College in Dodge City. He was inducted into the Hall of Great Western Performers of the National Cowboy and Western Heritage Museum in Oklahoma City in 1981. Stone also has a star on the Hollywood Walk of Fame. His wife, Jane, passed away on Oct. 20, 2002, in Rancho Santa Fe, California.
Kurly Hebb, Fall River - Rodeo Cowboy
Carvel "Kurly" Hebb was born on Jan. 16, 1934, to Manley and Letha Hebb in Howard and raised on the family ranch in nearby Fall River. He learned to ride horses at the age of 4 and rode his Shetland pony, "Tody," two miles each way to a one-room schoolhouse. Kurly recalls, "Tody and I went a lot of miles together; and we got there by and by." In 1956 Kurly joined the RCA rodeo circuit in Strong City. There he won the bronc riding, bull riding and all-around. In 1972, he again won the saddle bronc riding at Strong City, a place Kurly has special feelings about. "Strong City has always been my favorite rodeoÉit was always like coming back home." Qualifying five times for the National Finals Rodeo in the 1960s, he won saddle bronco riding titles at many venues including Phillipsburg; Sikeston, Mo.; Montgomery, Ala.; and Toronto, Canada. About the time he qualified for his last Nationals, he married his wife, Nita Ann, and started his family.
Kurly is not only a rodeo cowboy, but a cattleman. He purchased his own ranch near Fall River in 1961 and one in Texas in 1968. He was an innovative force in the cattle industry, importing the first Chianina heifer from Italy into the United States in 1974. This heifer went on to produce the first full-blooded Chianina calf in the United States. Kurly is currently a Gold Card member of the PRCA. He divides his time between his two ranches with his wife, daughter Kanzi and son Wade. He runs several thoroughbred race horses and enjoys deer hunting in the Flint Hills.
James J. Gilliland, Leon - Rancher/Cattleman
Jim Gilliland was born to Claude and Josephine Gilliland on Aug. 3, 1925, at Casper, Wyo. The family moved to Butler County when Jim was six months old, where the family founded the Gilliland Ranch. He attended school in Leon until his sophomore year, finishing high school in 1943 at the New Mexico Military Institute in Roswell. In September of that year, he joined the U.S. Army Air Corps. He flew 26 missions over Germany and Austria as a tail gunner in a B-24 bomber. After the war, he attended both Kansas University and Kansas State University.
In 1948 Jim began his ranching career, starting the Meldrum Ranch in Cowley County with his uncles, Mike and Brady Meldrum. Jim and Brady had a profit-sharing plan with the Hash Knife Ranch, shipping cattle from New Mexico to Kansas for the grazing season. These two uncles gave Jim a working knowledge of the ranching business. At the age of 35, Jim started managing both the Meldrum Ranch and the Gilliland Ranch. On Nov. 17, 1984, Jim married his wife, Paula.
Jim received awards for grassland conservation in Cowley County in 1992 and Butler County in 2003. He is a longtime member of the Kansas Livestock Association and served as chairman of the Cow-Calf Stocker Council in 1989. Jim was on the Kansas Beef Council Executive Committee from 1988 to 1995. He was a member of the board of directors of the National Livestock and Meat Board from 1992 to 1995. He lives with his wife near Leon. He has four sons, Joe Gilliland (deceased); Mark Gilliland, Houston; Scott Tracy, Dexter; and Shane Tracy, Leon. Scott and Shane both carry on the family ranching tradition.
Kansas Cowboy Hall of Fame
Inauguration Awards 2005
The five inductees and their respective categories:
Don Fisher, Garden City - Working cowboy.
Dr. C. Robert Haywood, Topeka - Cowboy historian.
Harold L. "Buddy" Heaton, Ulysses - Cowboy entertainer.
Gerald Roberts, Abilene - Rodeo cowboy.
John J. Vanier, CK Ranch, Brookville - Rancher/cattleman.
The Kansas Cowboy Hall of Fame is a project of Boot Hill Museum Inc. and was developed to preserve and honor the life of the Kansas cowboy. The Kansas Cowboy Hall of Fame past inductees' photographs and bios are on display year around at the museum.

For more information on the Kansas Cowboy Hall of Fame, contact the museum at 620-227-8188. More information from Boot Hill website