Prairie Fires on the Santa Fe Trail
(from The Deadliest Woman in the West: Mother Nature on the Prairies and Plains, 1800-1900, by Rod Beemer, 2006)
       During the fall of 1852 a high drama unfolded on the Santa Fe Trail when a troop of U.S. Cavalry went into camp near Diamond Springs, in what is now Kansas. In the waning hours before sundown a party of Indians set fires on all sides of their camp. The full account was described by Colonel Percival G. Lowe.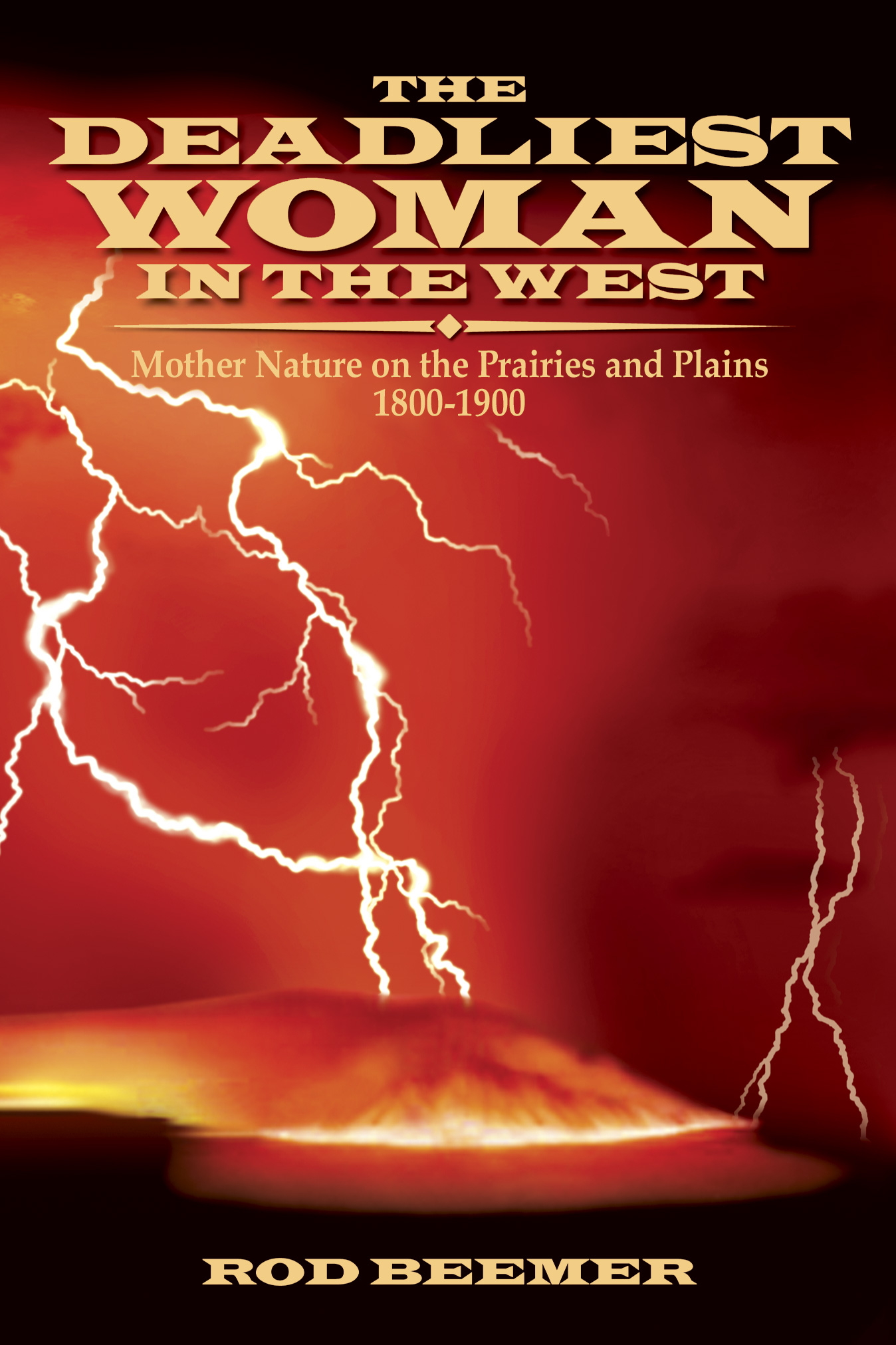 "Nothing of special interest occurred until we reached Diamond Springs, now in Morris County. The weather had been frosty at night and days sunny--a continuous Indian summer all the way--grass dry as powder . . . All day we had seen little bands of Indians  a mile or two off the road traveling the same direction that we were and apparently watching us. This was the Kaw country and probably no other Indians were there, and we could hardly understand why they kept aloof and watched our progress . . . We camped on high ground a little east of Diamond Springs, on the south side of the road. We had been very careful of fire all the way in, and here we were especially careful on account of the dense growth of grass and the consequent danger of burning the camp. We had finished dinner, about two hours before sunset when, as if by one act, fire broke out in a circle all around us not more than a mile from camp. A stiff gale was blowing from the south, and when we noticed it the fire in the tall grass was roaring furiously and the flames leaping twenty feet high. Quickly we commenced firing outside our camp, whipping out the fire next to it, thereby burning a circle around it. Every man used a gunny sack or saddle blanket and worked with desperate energy. The utter destruction of the camp was imminent, and we faced the fire like men who had everything at stake. Success was ours, but the battle left scars on nearly all. I have never seen fifteen minutes of such desperate work followed by such exhaustion--scarcely a man could speak. Blinded by smoke, heat and ashes, intuitively we found our way to the creek and bathed our burned hands and faces, many of us  terribly blistered. My hands and face were blistered in several places; my mustache and whiskers, the first I had ever raised, were utterly ruined; I could not wash on account of the blisters, and dipped my face and head deep down in the lovely spring of water and held my hands under to relieve the pain. My experience was that of most of the troop. We had quite a quantity of antelope tallow, which was warmed and gently applied to our sores. Undoubtedly the Kaws had set fire to burn us out." 
 

More Kansas Prairie Fires: 

      The summer of 1871 also saw substantial fires in the central plains. Further settlement of Morris County, Kansas, was brought to a halt in 1871 when a prairie fire swept in from the west. It was fought by all the male citizens under the leadership of Patrick Maloney, who was said to be 'the best fire fighter in the state.' The women pumped water and two small boys of the town, Will Miller and Graff Abbot, wet the sacks. A man and woman drove furiously in a buggy for 60 miles, it is said, ahead of the fire and when they stopped both horses dropped dead.
---