Robert M. Wright, 1840-1915
Dodge City, Kansas
Town President, founder, pioneer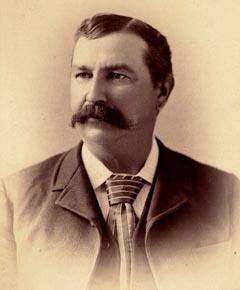 by George Laughead
Few cities were founded by a man with the background of Dodge City's own Town President, Robert M. Wright. With a family that included a clerk of the U.S. Supreme Court, and a president of the Continental Congress, Wright came west at age 16 to make his mark on the world. He married his 13-year old first cousin, Alice, when he was 19. Wright rose from bullwhacker -- freight wagon driver -- to owner of the largest commercial empire in the area, making and losing a fortune on the cattle trade, starting trails and towns.

By the time in 1872 that he owned a general store in Dodge City, Wright was making huge amounts of money from the Santa Fe Trail, buffalo hunter, and cattle trade. Historian Dr. C. Robert Hayward, in his book "The Merchant Prince of Dodge City: The Life and Times of Robert M. Wright" quotes evidence that Wright was taking in $200,000 a month during the cattle season of 1880 -- about $4,000,000 in 2009 dollars -- and that with no income tax.

But in his final years Wright was asking for help selling the last of his land and cattle (only about 110 cows were listed in property tax bills, circa 1904), when in October 1906 he wrote to P.H. Pat Sughrue, Dodge City lawman, and former Ford County Sheriff, "Can't you find a buyer for my land?"

That letter, written from the The Keeley Institute For The Treatment of Alcohol, Drug and Tobacco Addiction, Kansas City, MO, also is the 'smoking gun' of Robert Wright's long trouble with drug addiction. He wrote to Sughrue, "...for I was out of my head part of the time and full of morphine part of the time..." about a business question Sughrue had sent him.

Robert was to marry his final wife the next year, young Sallie Ivens.

In old age, with a new baby boy, Conner Wright, from his marriage to Sally (his 4th wife), Robert started a book to make some money. His title was DODGE CITY, THE COWBOY CAPITAL and THE GREAT SOUTHWEST in The Days of The Wild Indian, the Buffalo, the Cowboy, Dance Halls, Gambling Halls, and Bad Men -- no doubt one of the longest titles of any book written. He published it in 1913, and had to pay to reprint it again that same year due to a fire at the publisher in Wichita. He never made back the money he had spent to publish the book -- now selling at rare book shops for hundreds of dollars. (The first edition has a color plate as the first page -- the second edition, a black-and-white photograph.)

In his book Robert writes about himself as follows:

"Robert M. Wright was born at Bladensburg, Prince George County, Maryland, September 2, 1840. His father was born at Alexandria, Virginia, in 1800, and when a mere boy was on the battle-field of Bladensburg, administering to the wounded soldiers. [The British victory at the Battle of Bladensburg allowed the British army to enter and burn the city of Washington, DC during the War of 1812.]

"His great-grandfather was a Presbyterian minister, and during the Revolutionary war raised a regiment of militant plowboys, at Elizabethtown, New Jersey, of which he had command at the battle of the Meadows. The British set a price on his head and destroyed all his property. His wife was shot by a Hessian soldier, as she sat at her window with a babe in her arms. Her husband was killed by Tories.

"His grandfather on his mother's side was Elias Boudinot Coldwell, for many years clerk of the United States supreme court, whose residence, and private library, which had been loaned to Congress, were destroyed by the British in the war of 1812.

"When sixteen years old, Robert M. Wright took a notion to come West. He settled in Missouri and worked on a farm near St. Louis until 1859. He made an overland trip with oxen in that year, reaching the town of Denver in May. He crossed the plains four times by wagon and twice by coach. He worked for three years for Sanderson & Company, and then became a contractor for cutting hay, wood, and hauling grain. He was appointed post-trader at Fort Dodge in 1867. He has been farmer, stockman, contractor, postmaster, and merchant. He has four times represented Ford county in the legislature. In 1899 he was appointed commissioner of forestry, and was reappointed in 1901. He resides in Dodge City."

Robert then adds a nice quotation about himself:

"The July, 1912, number of the "Santa Fe Employer's Magazine" says of Mr. Wright:

"No account of Dodge City is quite complete without reference to R. M. Wright. Going into western Kansas in a very early day, this gentleman was, in 1866, appointed post trader at Fort Dodge. During a long and prosperous career, he has been successively a stockman, freighter, contractor, merchant, politician, farmer, county treasurer, state forest commissioner, postmaster, and representative of Ford county four times in the legislature, and once mayor of Dodge City. No man has been more closely identified with the remarkable history of Ford county than Mr. Wright. He is now living in feeble retirement in the old town which he helped make famous. "

During his decades in Dodge City, Robert Wright more than once was the man that rebuilt it from fires, and that sold all the Front Street lots to the merchants that first built here. He was the Fort Dodge sutler (general store) due to a letter of recommendation from U.S. Grant, who had known his family. Some of his personal details only came out late in his life -- Wright was not a man to boast or brag.

At the end of the trail, as Wright was facing his old age, illness, and was broke, his reflection of life on the frontier and why he loved it stands out. Wright says, "If you wish to feel yourself more comfortable than a king while listening to the sweetest strains of music, come back into a warm, pleasant home with its comforts and listen to the crackle of a cheerful, open wood fire, after being out in cold and storm for a month or two, never, during that time, being near a house or comfortable habitation, while every moment being in terror of Indian attack, or suffering from cold and storm really more terrible than Indian attack, sitting up the greater part of the night to keep from freezing, and riding hard all day on the morrow. In the joy of the change, you will imagine yourself in the heaven of heavens. How many of us have often experienced these feelings on the frontier of Kansas in the early days. Yet this kind of a life gives one a zest for adventure, for it is a sort of adventure to which he not only becomes accustomed but attached. In fact, there is a fascination about it difficult to resist, and having once felt its power, one could not permit himself to give it up."

From hunting to fighting Indians to dealing with the Earps and Mastersons, Robert M. Wright lived through the entire saga of the Old West which Dodge City represented then and now to the world. He outlived most of his associates and all but two of his many children -- and one of those two dies the year after Robert. The Ford County Historical Society has scanned Robert Wright's entire book. It is on-line at the Kansas State Library website: Dodge City, The Cowboy Capital And The Great Southwest and is well worth reading.