Frederick C. Zimmermann
Dodge City Gunsmith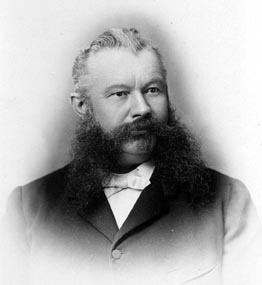 Frederick Carl Zimmermann was born in Saxony, Prussia, December 29, 1833 and died in Dodge City on January 20, 1888. He arrived in the USA in 1863, after learning and practicing his trade of gunsmithing in Germany, Paris and London. He married Matilda Messinger of New Britain, Connecticut in 1865. He arrived in Dodge City in July 1872. Matilda arrived in September 1872, with their first two babies. When they arrived, there was only a sod house and two canvas buildings, and the Santa Fe tracks had not yet reached Dodge City, the rails ending in Spearville. They use a wagon for the last 16 miles to Dodge City.
     An experienced gunsmith was a valuable addition to the new town and over the years, starting on Front Street in a building next to George Hoover's store, he built a hardware, general merchandise and lumber business out of his gunsmith store. The F.C. Zimmermann Hardware store was one of the most profitable Dodge City businesses well into the 20th century.
     Frederick Zimmermann's obituary in the Ford County Republican, January 25,1888, seems to state his history the clearest.
     Frederick attended the common schools of Saxony until fourteen years of age, when he was apprenticed to learn the business of gunsmith. He followed this avocation as apprentice and journey man until he attained the age of twenty, when...he entered the military service, in which he remained three years; a part of the time on detail as inspector of arms at Cologne on the Rhine. His term having expired, he was employed at his trade for several years in his native country, when he went to Paris, France, where he remained until 1861. He then crossed into England and plied his calling in London for two years. In 1863 he immigrated to America, and landed in New York, where he first found employment at his trade; and afterward at Trenton, New Jersey, Springfield , Massachusetts, and New Britain, Connecticut. At new Britain, June 14, 1865, he was united in marriage to Miss Matilda Messinger...formerly of ... Germany.
     In 1868 he started for the west, and engaged in selling guns on commission and repairing fire-arms at Laramie City, Wyoming Territory. In the fall of 1869 he located at Sheridan, Kansas, with a store of guns, ammunition and sporting goods, where he remained five months. At the end of that time, he transferred his business to Kit Carson, Colorado Territory, and remained there about two years. In July, 1872, he purchased lumber at Russell, on the Kansas Pacific railroad, and, crossing the country, located at Dodge City, where there were but two canvas-houses in the place, and erected a building, in which he began the business of gunsmithing and the sale of hardware and trimmings. In 1874 he added to his other business that of general merchandising, and in 1875 that of lumber, in which he was still engaged at the time of his death.
     Frederick Zimmermann was a leader among the German population and served as founding president of the German Immigration Society. He was also elected county commissioner several times, and was one of the first three commissioners when Ford County was established in 1873. He was on the first school board. He served two terms as county treasurer in the late 1870's.
     According to Kansas and Kansans (1919), it was while rerunning for treasurer that "he was set upon by a band of 'bad men' believed to have been inspired by Bat Masterson for the sole purpose of harming Mr. Zimmermann. They laid for him at a lonely spot, and as the county treasurer and his wife approached in a buggy fired a shot in their direction. Mr. Zimmermann at once handed the lines to his wife, jumped from the vehicle with his old bright barreled shotgun and started after his assailants. The glistening of the gun barrel in the bright moonlight revealed the determined character the outlaws had to deal with and they quickly disappeared. He was frequently ordered to leave town by members of this outfit [Zimmermann was against gambling and the saloon gang of Dodge City], and on one occasion they sent him a valentine indicating in cartoon how he would be disposed of if he did not go. Mr. Zimmermann labeled the valentine 'Bat Masterson' and stuck it up in his window and forgot the threat. He was absolutely without fear, and no threats coming from any man would deter him from his straight and narrow path of duty."
     Zimmermann was also a 'gentleman farmer,' and established the first homestead claim proved-up in the county. The Zimmermann home was on a large acreage on the west edge of Dodge City, where the Santa Fe railroad tracks cross 14th Street. On his farm, he experimented with fruit trees, vines and windmill irrigation. He was the first to produce alfalfa successfully in Ford County. In 1885, his vines produced over a ton of grapes. He had numerous fountains on his farm, giving the name "Fountain Grove" to his beautifully landscaped estate.
     The Zimmermanns had five children, three of whom died in infancy. Son Arthur was killed in a horse accident in 1887, when he was 16. The surviving daughter, Clarrisa, was married to John H. Churchill and, after John's death, to banker George B. Rose. When Clarrisa died in 1954, she had lived the longest in Dodge City of any resident.
William E. Connelley, in his Standard History of Kansas and Kansans wrote: Frederick C. Zimmermann was one of the stalwart, courageous and upright men of the real pioneer era in Southwestern Kansas. Of the personalities that figured largely in the early life of Dodge City, his was one around which center many grateful and interesting memories.
     F.C. Zimmermann died January 20, 1888, just months after the death of his son. His wife, Matilda, moved to Los Angeles, California, where she lived until returning to Dodge City in 1928 to live with her daughter, Clarrisa. She died in September 1929.
(© 2003-2015, George Laughead, author.)