George and Jere Martin
GJ Art Studio
Fowler, KS
Fowler artists George and Jere Martin have exhibited their fascinating southwest Kansas art in many galleries, most recently at the Meade County Historical Museum Goodnight Gallery.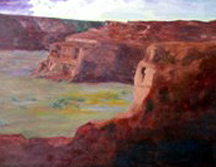 George is happiest at his potter's wheel, but also enjoys working with free form clay and metal sculpture. He designs creative ceramic tile and is adept at black & white photography. He has recently begun working with a tintype process, samples of which will also be on display.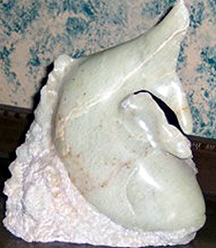 Jere has her fingers into many mediums from acrylic and pastels, charcoals and pencil to native rock carvings. Together, the Martins have also been creating handmade paper, candles and soap using homegrown herbs from their garden.
Virtually all the subject matter of their many projects pertains to southwest Kansas and a great majority of the materials they use are native to the area.
GJ Art Studio is located at 5th and Pine in Fowler. George and Jere work hard to provide a private or semi-private setting in which aspiring artists of any age are encouraged as well as educated. Call George and Jere at 620/646-5367.