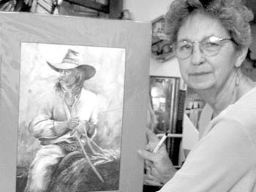 Norma Clare Paintings
Dodge City, KS
Norma Clare is a versatile artist. Her use of pastel, oil, acrylic and watercolor brings to life authentic depiction of life in the Wild West. Using models from today, she captures the cowboy sentiment without flaw, drawing on her innate ability to read character and recreate on canvas.
Norma is also a creative seamstress and has produced hundreds of shirts and dresses reflective of the West in its heyday. A recent exhibit at the Goodnight Gallery, Meade, showcased the variety of her work along with some beautiful Native American and Western theme items.