April 5, 1873: Ford County Is Organized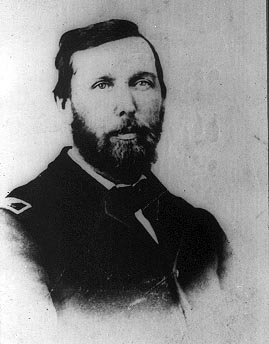 In honor of the 125th anniversary of Ford County, articles and books on the formation were reviewed. Most of the sources listed different names and spellings of the key pioneers involved. Rita Slattery, Ford County Clerk (retired), provided copies of the original minutes of the first year of Ford County commission meetings. Also used were the wonderful articles written by the late sage historian of the area, Heinie Schmidt, former-Postmaster of Dodge City and son of Adam and Elizabeth Schmidt. His articles have errors, but his analysis of the events are without equal.
     Heinie Schmidt wrote in his Dodge City Daily Globe article of September 30, 1947, that the first official step taken by Ford countians ("40 householders") was the filing of a Memorial for the Organization of Ford County Kansas...filed October 1, 1872, and reads:
TO HIS EXCELLENCY JAMES M. HARVEY GOVERNOR OF THE STATE OF KANSAS. We the undersigned who are holders and legal electors of the county of Ford and state of Kansas, would most respectfully represent that there are, as we verily believe, six hundred (600) bona fide inhabitants in said county of Ford.

We therefore request Your Excellency to appoint Isaac Young, ...to take census and ascertain the number of bona fide residents in said county.

We further request that you will appoint Charles Rath, J.G. McDonald [see note] and Daniel Wolf as special County Commissioners, and Herman J. Fringer ['Fringer' township is now Dodge township] as County Clerk, and recommend that the county seat be temporarily located in Dodge City.

...Signed: Charles Rath, L.B. Shaw, E. Richter, R.M. Wright, J.H. Rice, G.H. Schoelbrugf, E.D. Lecompe, H.J. Fringer, Wm. Krause, Geo.F. Jones, Geo.O. Smith, Geo.S. Crawfman, T.A. Seyfers, H.O. Weiss, L.L. Leavitt, F.C. Zimmermann, Chas. H. Helinke, Rich McCormick, John Shepard, M. Collar, Garry John [sic] McDonald, George Merritt Hoover [Schmidt notes that this is the only time on record where Hoover spelled out his middle name--Merritt Beeson, Chalk's son, was named after him], Peter Taschetta, Amos Buckart, Daniel Wolf, Henry Munson, B.J. Jones, G.W. Hollinger, F. Williamson, D.S. Smith, Charles Stuart, Wm.W. Bener, Mrs. Brunt Mitchell, M.V. Cutler, A. Ruedan, W.K. Nelson, Arthur Wilder, C.M. Jordan, Chas.H. Drew, J.M. Eassington, and A. Guilamin.

[Note: There is not a copy of this document to compare spellings--Heinie's have been used.]
     The census was completed by January 1873. According to Heinie, "the list of names as certified by the census taker...shows a total of 609 names. However, two signed "no name," leaving the bona fide number of 607. The law...required that a county have a population of at least 600....The report is dated Jan. 11, 1873, and is duly signed and notarized."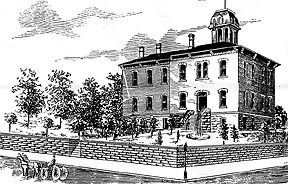 Heinie continues that "it is evident from the order in which the names appear on the census report that the census taker started at the Dodge House hotel on the corner of Central avenue and Front street, and worked west the entire three blocks. A study of the names will convince anyone that the census taker enumerated all the cowboys, freighters, buffalo hunters, dance hall girls, gamblers, and loafers along the street.
     "This theory is borne out by the fact that the names of many known to have been residents of the county at that time are not included in the census report, among them... G.M. Hoover, H.L. Sitler, O.A. [Brick] Bond, John Riney, Andrew Johnson, A.J. Anthony and Col. R.J. Hardesty.
     "Among the enumerated were the following who played an important role in the frontier days of Dodge City. Loran Warran, killed by the Indians and buried on the prairie near Dodge City; James Kelley, scout with General Custer and the city's second mayor; Pat Ryan, buffalo hunter and founder of Ryanville (now Ford); Edward Masterson, killed by Texas cowboys Walker and Wagner while serving as city marshall; Thomas Nixon, killed in a gunfight with Mysterious Dave Mather while serving as city marshall; Jack Bridges, the city's first marshall; Bat Masterson, frontier sheriff and peace officer; George B. Cox, proprietor of the famous Dodge House hotel; R.W.Evans, sr., first postmaster of Hays...; James Lee, partner of P.G. Reynolds, sr., in the operation of the Lee-Reynolds stage lines; A.I. Peacock, owner of the Lady Gay dance hall; and Dan Kelly, who may have been the same Dan Kelly who wrote the music to our state song, "Home on the Range."
     The official legal document, provided by Rita Slattery, is the "Proclamation of Governor Thos. A. Osborn declaring Ford County, Kan. organized...."(signed) and "affixed [with] the Great Seal of the State. Done at Topeka this Fifth day of April, A.D. 1873. Singed: Thomas A. Osborn, By the Governor, W.H. Smallwood, Secretary of State. (Seal)."
     The minutes continue; "When Commission arrived...Daniel Wolf was no longer a citizen [according to Heinie, he was drowned while attempting to ford the Saw Creek]--James Hanrahan was appointed as Special County Commissioner.
     "Chas. Rath, G.J.[sic] McDonald and James Hanrahan were qualified as Special County Commissioners for Ford County on April 30, 1873 & Herman J. Fringer was qualified as Special County Clerk, April 18, 1873.
     "Board organized April 30, 1873, Chas. Rath being appointed chairman, it was agreed to call a special election on the fifth of June 1873, for the election of County Officers....
     "On the 5th day of June 1873, the following officers were elected: F.C. Zimmermann, Chas. Rath, A.C. Myers, County Commissioners--Herman J. Fringer, County Clerk; A.J. Anthony, County Treasurer; Chas. E. Bassett, Sheriff; M.V. Cutler, [County] Attorney; H. Armitage, Register of Deeds; Geo. B. Cox, Probate Judge; M. Collar, Trustee; and [Dr.] T.L. McCarty, Coroner, Herman J. Fringer, Clerk of the District Court, P.T. Bouen & Thos. C. Nixon, Justices of the Peace. County Seat of Ford County to be at Dodge City, Kan."
     The original minutes through November of 1873 show one other fact--at almost every meeting, some members resigned and new members were added. For example, by July 1, 1873, M.V. Cutler replaced Charles Rath due to "vacancy caused by the nonqualification of...Rath." But for decades, the earliest pioneers of the old West--those that remained--held the political positions of Ford County. They remained trusted associates and friends through out the rest of their lives.
(© 2002, Ford County Historical Society, Inc. George Laughead Jr, author.)