Ham Bell's Birthday Picnics
(from Lost Trails of the Cimarron, by Harry Chrisman, 1964. Hamilton B. Bell lived from 1853 - 1947. He outlived all other Old West Marshals.)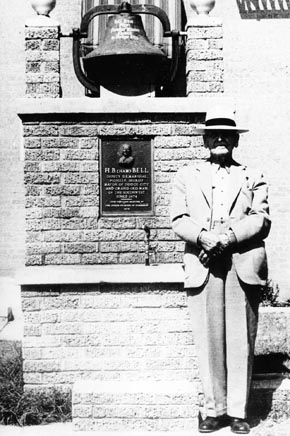 For many years Ham Bell had dealt in land, cars, and insurance, invested in town and ranch properties, cattle, and the pets for his pet shop. He had buried most of the old pioneers he had known from youth--Chalk Beeson, Print Olive, Jack Hardesty, Bob Wright, Brick Bond, A.J. Anthony, George Rieghard, John Riney, Doc McCarty, George Hoover, H.L. Sitler, most of the personnel of the Cowboy Band, and not a few of the "bad" men who were buried on Boot Hill and later moved to Prairie Grove Cemetery. As a mortician, Ham Bell had learned to look upon Death as a part of Life, the closing chapter, nothing to fear, something only to expect and to become reconciled to at the end. His sympathetic understanding helped many who parted from their loved ones at the grave, to which their beloved dead had ridden in the horse-drawn and later motor-drawn vehicles provided by Ham Bell.
     Ham Bell probably knew more cattlemen and law officers by their first names than any other man in the Southwest. He made quiet, private, and personal loans to many old friends who were down on their luck, rarely charging them interest and failing to be repaid by many of them. In his years as a law man he arrested every sort from youths just entering a path of crime, many of whom he turned back to the straight and narrow, to psychopathic killers. Like many of the men of his age he feared no man, but could rarely steel himself to serve foreclosure papers on a widow or an old friend, usually delegating this distasteful duty to a deputy.
     When Print Olive's widow, Louisa Olive, was losing her town properties by foreclosure following her husband's murder at Trail City, Colorado, Bell, an old friend of Print Olive, took every precaution to avoid hurting Louisa Olive or offending her. He made every effort to see that she obtained the highest prices possible for the town lots which she sold to provide for her family of small boys.
     When Ham Bell was in his eighties the annual Ham Bell Picnic became a city-wide attraction. Old folks who had known Bell in youth were getting scarcer and it was now their sons and daughters who carried on the tradition. Since the birthday fell in July, on its last day, the weather was often too hot for the old people to attend. Bell then thoughtfully arranged to hold the picnics in September. As the years passed and Ham passed a white-thatched 88, he fast began running out of old friends, only their sons, daughters and grandchildren remaining to attend the picnics.
     Before one of the last picnics, Ham Bell was reflecting. "I hope to live several years more," he said, then paused and flicked an ant from the bosom of his shirt. "I love everyone, especially western Kansans. I thank the Lord for much which I have to be thankful for, since He has been with me all my life--and He's gotten me out of some pretty rough spots, too!"
     On his 91st birthday, July 31, 1944, Hamilton B. Bell greeted friends down town in Dodge at his pet shop and "waited on trade" as usual. Following his death in 1947, the author was talking one day with Ida Ellen Rath about writing of the old pioneers of Dodge City. "If you're going to write about some one," Ida said, "write about Ham Bell."
     "I remember him for many kind things he did," Ida Rath continued, "and for many kind things he said to others. But probably the best thing we remember him for was that he always laid a floral tribute on the casket of anyone who passed away in Dodge City."
(Ford County Historical Society, Inc.)