The John Mueller Housewarming Party, 1881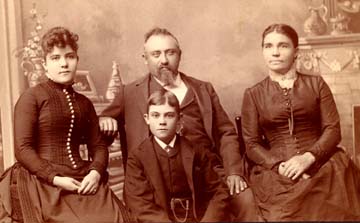 [On October 30, 1881, John and Karoline Mueller and children, Emelia and Henry, were given a housewarming party, featuring Chalk Beeson (Long Branch Saloon co-owner) and his orchestra and a dance in the unfurnished large parlor. The following is from the Ford County Globe, November 1, 1881, issue.]
     "Last Tuesday evening the beautiful new stone residence of our fellow-townsman John Mueller was formally introduced to a large company of ladies and gentlemen, who gave a surprise party in honor of Mr. and Mrs. Mueller. The host and hostess and their daughter Amelia [sic] entertained the guests in a very pleasing manner. Professor Beeson and his orchestra arrived soon after the balance of the party, and those who delight in the "mazy" were given one of the large parlors, which was yet unfurnished, where dancing was hugely enjoyed. Later in the evening an elegant supper was served in the spacious dining room on the lower floor, where the choicest delicacies of the season where freely indulged in. The supper was very fine, and well deserved the shower of compliments bestowed upon Mrs. Mueller.
     "The completion of this new residence adds another real adornment to the city. It is noticeable at once by all observers, as it is located on high ground and built of a very fine quality of beautiful grey stone, quarried from near Saw Log. The rooms are not yet all completely furnished, and we understand Mrs. Mueller goes east in a few days for the purpose of selecting furniture.
     "That Mr. and Mrs. Mueller may enjoy many years of comfort and happiness in their new home is the wish of their numerous friends who enjoyed their hospitality on the occasion above referred to."

(Ford County Historical Society, Inc.)