Dodge City Shootout:
The Deaths of Levi Richardson and Frank Loving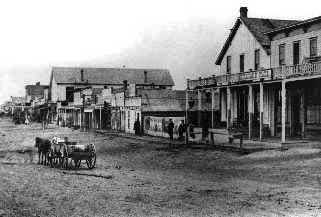 In March of 1879, Levi Richardson and Frank Loving came face to face on Front Street in Dodge City, Kansas. An enmity existed between the two involving Mattie Loving, Frank's wife. Richardson struck Loving a blow to the face. Being unarmed, Frank walked away. Levi vowed then and there to eventually "blow the guts out of the cockeyed son-of-a-b..."
     "Cockeyed Frank" Loving, so called because "one of his optics bearing in a northeast direction to the other," was a 19-year old cowhand turned professional gambler. He was born in Jackson County, Missouri, about 1860, spending much of his childhood in Kansas City. In 1872 his father died but within a few months his mother remarried, the new family moving to Fort Worth, Texas. Eventually, Loving came up the trail to Dodge City and was now making his living as a gambler. The Ford County Globe said professional gamblers like Frank Loving "are desperate men. They consider it necessary in their business that they keep up their fighting reputation and never take a bluff." They went on to describe Loving as "not much of a rowdy, but more of the cool and desperate order." Other gambling celebrities in town at this time included Doc Holliday, Rowdy Joe Lowe, John Allen, Bat Masterson, Wyatt S. Earp, and Charlie Bassett. Loving knew them all.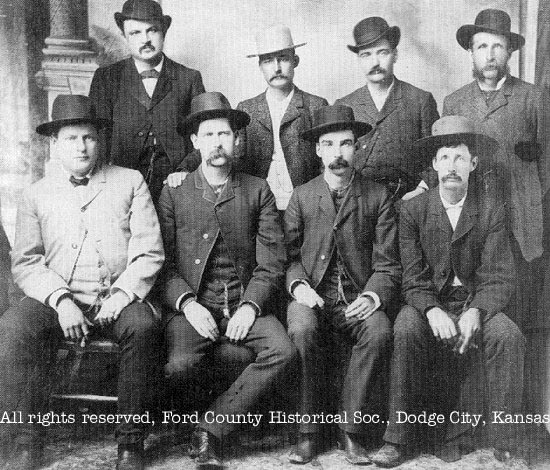 Original photograph of the 'Dodge City Peace Commission' in June 1883. Front, l-r; Chas. E. Basset, Wyatt S. Earp, Frank McLain, and Neil Brown. Back, l-r; W. H. Harris, Luke Short, W. B. Bat Masterson, and W. F. Petillon. This is the version with Petillon beside Masterson. All rights reserved. FCHS.
     Levi Richardson was from Wisconsin, coming to Southwest Kansas to make his fortune hunting buffalo. During the great slaughter it was not unheard of for a buffalo hunter and his crew to make more than $100.00 per day selling the hides to Rath and Wright, or Eugene LeCompt. H.H. (Henry) Raymond, who knew Richardson from the buffalo hunting grounds, said Richardson was an unpleasant man. Bat Masterson was Levi's friend. Richardson had also worked for Henry Stitler, cowboying for the man who erected the first sod house on what is now Dodge City. In April 1879, he was freighting between Dodge City and points south.
     Levi Richardson strode purposefully into the Long Branch saloon about dusk on Saturday, April 5, 1879. It was one of those cold, windy, early spring evenings in Dodge City, Kansas. As he entered, he looked over the crowd already assembled, scanning the room for Frank Loving. Richardson thought it was time to settle their differences. He knew that the Long Branch had come to be Loving's principal place of business; he was sure he would find Frank there.
     The famous Long Branch saloon, owned by Chalk Beeson and W. H. Harris, was the epitome of cowtown fancy. Paintings adorned the walls, revolvers decorated the patrons, and a steer head kept watch over the action on Front Street. It was the favorite for cattlemen and gamblers, and witness to some of Dodge City's infamous events.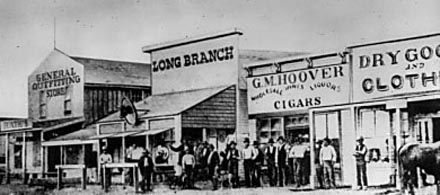 Gunplay was no stranger to the Long Branch saloon. When the canvas on the walls was removed in May 1882, twenty-five bullet holes were discovered, mute testimony to the action the patrons had seen over the years. April 5, 1879, brought to the Long Branch several of those bullet holes in one of Dodge City's most famous shootouts.
     About 8:00 p.m. that evening, Levi had given his personal papers to Sarah Warren telling her to take care of them. Mrs. Warren would later testify, "He said that if anything happened to him they would be no use to him; they would be mine". It seems obvious from this Levi Richardson was planning his duel with Frank Loving. Richardson headed for the bar situated along the east side of the Long Branch. He needed to start the fire in his belly that would chase away the chill of the cold evening and give him the courage to put his plan into action.
The Gunfight
     After getting his drink, Richardson moved over to the pot-bellied stove in the front room of the saloon. At some point between 8:30 and 9:00 p.m. he decided to move on, and headed for the door just as Frank Loving entered. Richardson immediately turned and followed Loving back into the Long Branch. Loving sat down on the hazard table, Richardson taking a seat near him on the same table. Richardson may, at this time, have begun to berate Loving, goading him into fighting. None of the witnesses seemed to know what was said.
     What is known is that Loving got up from the hazard table and said something unintelligible to Richardson and told him, "If you have anything to say about me why don't you come and say it to my face like a gentleman, and not to my back, you damn son-of-a------". Richardson immediately stood up and said, "You wouldn't fight anything, you damn -------". Loving retorted, "You try me and see", whereupon Richardson drew his pistol and Loving drew his in response.
     What followed left the Long Branch filled with smoke, one man dead, one man slightly wounded, and the rest of the crowd hunting cover but miraculously unhurt. In the scramble one man crawled through the transom at the back door and another crawled into the ice chest hunting safety.
     The gunfight started by the stove in the front room. Edward Davies testified, "I saw ... Levi Richardson with a pistol in his hand. He was chasing Loving around the stove". He said that before he headed to the club room for cover, he saw Richardson reach around the stove and fire at Loving.
     Charlie Bassett, Marshal of Dodge City and under Sheriff of Ford County, was several doors east of the Long Branch in Beatty & Kelley's saloon when he heard the gunfire. He immediately set out for the source of the disturbance. Bassett testified: "Saw Frank Loving, Levi Richardson and Duffey [Deputy Sheriff of Ford County]. Richardson was dodging and running around the billiard table. Loving was also running and dodging around the table..." Each was shooting at the other. Bassett also testified that when he was shown the pistols, Richardson's had five empty shells and Loving's Remington No. 44 was empty. Loving fell by the table by the stove, bystanders believing him to be shot.
     Deputy Sheriff Duffey grabbed hold of Richardson. Handling him easily, Duffey threw Richardson onto some chairs and came away with his gun. Bassett in the mean time had disarmed Loving. Richardson rose again, started toward the billiard table, and fell with a fatal wound to the chest. He had also been shot through the side and through the right arm. All Frank Loving had to show for it was a "slight scratch on the hand" according to the Ford County Globe. He was immediately hauled off to jail to await the verdict of the coroner's inquest.
     Wondrously, no one else in the entire room was injured. As the Globe stated "It seems strange that Loving was not hit, except a slight scratch on the hand, as the two men were so close together that their pistols almost touched each other". Richardson's coat was on fire, so close was the discharge of Frank's Remington.
     Twenty-eight years old Levi Richardson was buried on Sunday, April 6, 1879, one more person to die with his boots on. James Richardson of Port Andrews, Wisconsin was in Dodge City two weeks later "looking after his brothers estate." Levi's father would arrive a while later. One more family to mourn a relative killed on the frontier.
     On Monday, April 7, 1879, a coroner's inquest was held and ruled that the killing was done in self-defense and Loving was immediately released.
On To Trinidad
     Frank moved on to Las Vegas, New Mexico, to ply his trade, it being the wide-open town of the date. At various times such notables as Doc Holliday, Dave Rudabaugh, "Mysterious" Dave Mather, and "Hoodoo" Brown called it home. Staying in Las Vegas only a short time he moved on to Trinidad, Colorado, later in 1879.
     Loving had by this time become a celebrity because of the Richardson affair. While in Trinidad he was dealing faro in Bank Exchange saloon-gambling establishment and "bucking the tiger" at others. He often laughed with his fellow gamblers that it was his slow draw that enabled him to come out the winner in the "Long Branch shootout."
     John Allen another "expert of the green cloth" and an old Dodge City acquaintance, was also in Trinidad at this time, dealing faro at the Imperial club room. Many of the old Dodge gang were there including Bat Masterson, Jim Masterson, Charlie Ronan, P. L. Beatty, and George Goodell.
     John Allen was a one-time deputy marshal in Dodge City. It is claimed by Stuart Lake in Wyatt Earp, Frontier Marshal, that Allen, while marshal of Dodge, was "run up an alley and out of town by a bunch of festive cowboys". As many of the peace officers did in those days he spent much of his time following his true profession, that of a gambler. It was in that capacity he came to Trinidad. He was described in the Trinidad News Tuesday, April 18, 1882, as "a tall man with black eyes, hair and moustache, dresses in black, and so far as the writer knows is courteous and affable. He is considered skillful in his profession and has gained the dislike of a number of the gamblers...."
     Enmity between Loving and Allen had arisen over a couple of loans each made to the other. Loving stated that when Allen came to town he was broke and that he, Loving, had loaned Allen $20.00 as a stake, asking no collateral. Allen had repaid the debt in full. On April 14, 1882, Loving was having a streak of bad luck and asked Allen for a loan of $25.00. Allen would only loan on the condition that Loving give some sort of collateral as the money he was playing with was not his own. Loving considered this an aspersion on his character but gave his faro box as collateral. The whole transaction enraged Loving. He had loaned without collateral and expected the same consideration in return. Over the next couple of days a verbal battle raged with a gunfight only averted by the intervention of mutual friends.
Gunfight In Trinidad
     On Saturday, April 15, Loving and Allen came face-to-face on Main Street in Trinidad and immediately got into an argument. Both men drew revolvers and prepared for battle. However, mutual friends intervened, cooled both men, and each went his separate way. It was thought that their problem had been settled. Sunday morning and afternoon came and went without incident. Then at about 6:30 p.m., Frank and several friends came into the Imperial Saloon. John Allen was already in the Imperial club room, sitting halfway down the room. Seeing Loving enter with several friends, he may have believed that Loving had come looking for him. Allen immediately stood up, pulled his gun, and took a shot at Loving. Frank, seeing Allen's move, immediately pulled his Colt 45.
     A general scramble for safety began with the first shot. In the jostling of the mad rush to sanctuary, one of the patrons knocked the gun from Loving's hand. Loving grabbed the man nearest him and used that gentleman as a shield until the man tripped as Allen fired his second shot. Loving bent over to retrieve his pistol as Allen fired his third shot.
     With that, Allen headed for the rear door, which opened onto another room. Firing one more shot at Frank, who was hot on his heals, Jack Allen disappeared into the dark backroom. Loving reached the door and emptied his revolver around the back room thinking Allen may still be in there. But Allen had gone out into the alley and broken down the back door of Hammond's hardware store to gain entrance and hide. At this point none of the shots had taken effect.
     Jim Masterson, Trinidad city policeman, former Dodge City marshal, and younger brother of Bat Masterson, caught up with Loving at the back door. He took Frank back to the front door of the Imperial where Loving was disarmed and notified that he was under arrest. Jim then headed to Hammond's looking to arrest Allen. Not finding him there he returned to the Imperial where he was told that Loving had acquired two other guns and gone looking for Allen near the Catholic Convent down the street. Finding Loving there, Jim again disarmed him. Leaving Frank in the street, he again went in search of Allen at Martin's saloon. Not finding him there he went back to the Imperial and on to the Boston clothing store corner. A shot rang out from Hammond's. Jim headed for the hardware store and met Frank coming out. Loving saw Masterson and said, "Jim, I'm shot."
     Being out of ammunition and knowing that Allen would try again, Loving had gone into Hammond's hardware store to get a supply of ammunition and reload. Frank was in the process of ejecting the empty shells from another gun he had acquired when a 45-caliber slug struck him in the back. The bullet plowed through his body and lodged in his left arm, shattering it. Masterson helped him back to the Imperial where he was placed on a cot and Dr. Palmer was called. According to Loving, John Allen had entered the basement of the hardware store, came up a stairway, through a door six-feet from where Loving was reloading and fired the fatal shot. Allen was indeed found in the stairway by marshal Lou Kreeger after the shooting.
     Allen was arrested by Kreeger and Jim Masterson and taken to the county jail protesting his innocence. Twenty guards were put on duty to guard against any attempt to take Allen from the authorities. No charges were filed until Frank Loving died. Frank asked to be taken home where he was treated by Dr. Grass and later by Dr. Green. He died on Friday, April 21, 1882, from the effects of the wounds. Murder charges were now filed against Jack Allen.
     Frank Loving left his wife Mattie that he had married in Dodge City, a two-year old son, John, and a one-year old daughter, Mintie. In later years, Loving's wife and children would move on to Kingfisher County, Oklahoma.
     After a preliminary hearing, Allen was held without bail until the next term of the district court. In September 1882, he was found not guilty and Allen walked away a free man. He headed back to Dodge City and eventually became a street preacher and traveling evangelist. "And, of course, all was forgiven," wrote Bat Masterson. "Cockeyed" Frank Loving's funeral was held at his home, the Rev. A. H. Boyle, Protestant Episcopal minister officiating. It was written that "the funeral cortege was large. He strived to be a good friend and was endeared to many."
(Ford County Historical Society, Inc. Roger Myers, author, copyright 2003)
Return to the Top.