First Dodge City AAA 150-mile Auto Race, 1916
Russell "Bus" Armstrong, Winner
Hudson Super-Six, 71.86 MPH Average
Over 4,000 attend race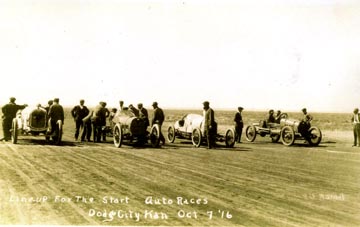 Line-up for the start of the first Dodge City, Kansas, AAA 150-mile auto race, October 7, 1916.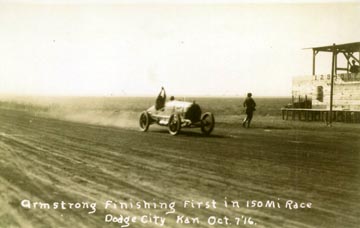 AAA 150-mile auto race, "Bus" Armstrong finishing first, Dodge City, Kansas, October 7, 1916. Photos courtesy, Roger B. Burnett.
Letter from J.P. McCollum requesting race:
April 6, 1916
American Automobile Association, Att: Mr. Kennerdell.
437 5th Ave.
New York City.

Gentlemen:
As president of the Dodge City Motor Speedway Corp., I am asking you for information relative to A.A.A. sanctioned races. We have a two mile oblong speedway, dirt, which we laid out and graded in 1913 and each year since we have regraded and increased the bank on the curves. On July 4th, 1914, and July 3rd, 1915, we held International Championship Motorcycle Races with the sanction and under the direction of the F.A.M. Both years we broke all dirt track records for practically every distance up to 300 miles. Our 1915 record stands.
We expect to hold our 3rd. annual international race July 4th, this year and there is great enthusiasm for an automobile race of some sort for July or some later date in July or August. We want to learn the rules, the cost of sanction, the other expenses, if any, connected with the official A.A.A. side of promoting and running the various classes of automobile races.
I refer you to Mr. Jno. L. Donovan, chairman of the Competition Committee of the F.A.M. at 811 Ashland Blk. Chicago, for information relative to the safety of the track, the quality of the dirt surface, our ability to handle a crowd, and our financial standing.
I might add that each year we steam roll the track and oil it, making it a nearly dustless surface.
Yours, J.P. McCollum, Dodge City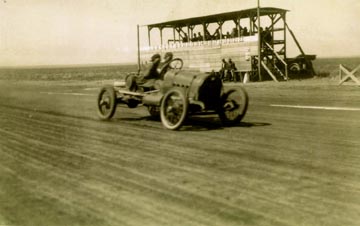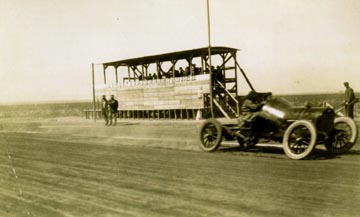 AAA auto races, Dodge City, Kansas, October 7, 1916.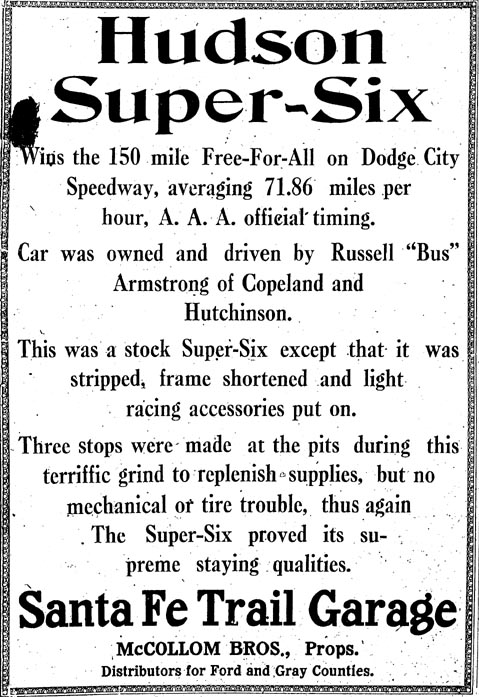 Santa Fe Trail Garage Hudson advertisement, 1916, Dodge City, Kansas. Courtesy, Roger B. Burnett.