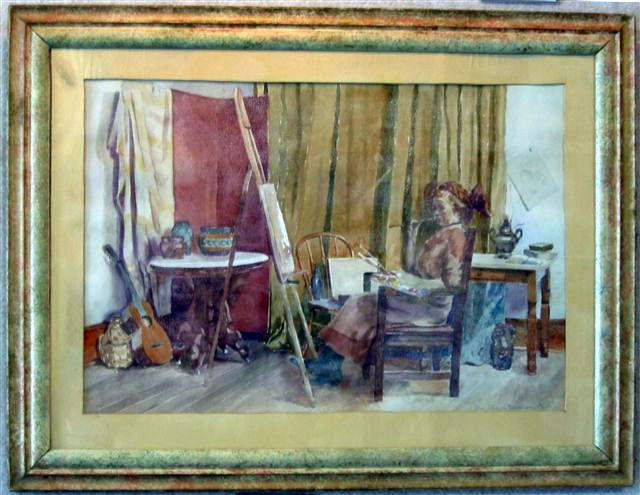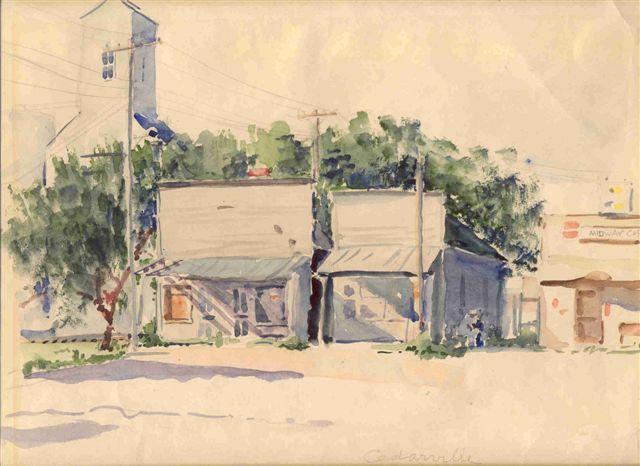 Nettie Smith Chubb, 1885 - 1981
Kansas Pioneer Artist
The parents of Nettie Smith Chubb came to Kansas around 1874. Their first home was a dugout and later they built a stone house on Beaver Creek, about two miles west of Smith Center. Nettie was born Nov. 18, 1885 in this home, the third of five children of Ira Smith and Cora Bell Morgan Smith. Around the turn of the century the family moved to Smith Center to a home on West Court St.
Nettie taught school for some time then became interested in art and developed this talent to become a very fine artist in the watercolor medium. A figure or portrait was a class requirement when Nettie attended K.U. Nettie chose to do a self-portrait and named it "In the Studio, K.U." She became a fine illustrator and did much work for magazines and school papers. She was commissioned to paint a large Biblical scene of the Jordan River for the old First Christian Church that hung behind the baptistery for many years. It now hangs on the north wall of the newer church's fellowship hall.
Nettie cared for her parents until their demise then left for California where she pursued her career in artwork. In 1949 she started back to Smith Center but took a side trip to the Grand Canyon and, unbeknown to her, romance. Nettie was sketching at the canyon rim when some of her work blew at the feet of Nelson Chubb. They became friends and Nelson tried his hand at painting. They exchanged letters that summer. Later Nelson offered marriage and they were married Oct 9, 1949. Together they traveled the 48 states, Canada and Mexico. In later years they remained at home and Nettie painted from their many sketches and photos. Nettie passed away in May 1981, and Nelson in October 1987. (Paintings courtesy: Meadowlark Gallery, Smith Center, KS)