Dodge City Trail of Fame
The Dodge City Trail of Fame, a self-guided historical walking tour of Dodge City with movie and television-related Trail of Fame sidewalk medallions along a route through the historic downtown area has begun installation. The restored Santa Fe Depot, sundial park and railroad caboose will be at the east end of the trail, and Boot Hill Museum and Front Street replica on the west.
Wyatt Earp statue, Dodge City, KS: Copyright 2004, by artist Mary Spurgeon. Click on photograph for purchase information.
     The inauguration of the Dodge City Trail of Fame was during the 2003 Kansas Cowboy Symposium. A formal reception and black-tie dinner was held with TV actor and Hollywood cowboy Dennis Weaver. On May 26, 2003, a dedication of the Trail of Fame with Weaver, who portrayed ("Chester Goode" in the original "Gunsmoke" television show), took place in downtown Dodge City. Dennis Weaver was honored with a Trail of Fame medallion dedicated during the ceremony.
     Plans call for 24-inch bronze Trail of Fame medallions commemorating celebrities such as Weaver who have played real or fictional Dodge Citians. A few actual historical figures will be included, along with a eight-foot statue of Wyatt S. Earp, by famous western artist Mary Spurgeon.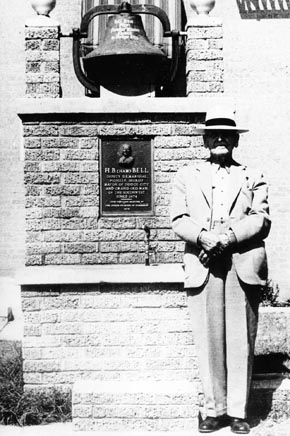 Ham Bell, Ford County Sheriff, Dodge City Mayor, longest living Old West U.S. Marshal. Photograph taken in 1939 on top of Boot Hill, Dodge City.
     The first honorees include a few real historical characters -- Wyatt S. Earp, John Henry "Doc" Holliday, W.B. "Bat" Masterson, Chalkley Beeson, Charles Rath, and "Big Nose Kate" Elder.
     The initial group of celebrities includes Errol Flynn, as well as Weaver, TV "Wyatt Earp" Hugh O'Brien and "Bat Masterson" Gene Berry and various other "Gunsmoke" actors; Buck Taylor, Burt Reynolds, Buck Taylor, James Arness, Amanda Blake, and the late Milburn Stone. Actor Dennis Hopper, a Dodge City native, is also included.
     More Trail of Fame medallions are planned for the next few years. Real pioneers of Old West Dodge City such as town founders Robert M. Wright and George M. Hoover are being considered, along with the most important Dodge City lawman Ham B. Bell, Ford County Sheriff, Dodge City Mayor and longest living Old West U.S. Marshal. It was hoped that these actual historical figures would be in the initial selection, but were not. Inclusion of the infamous George Custer is also a point of historical concern -- he never lived in the Dodge City-area, although was at Ft. Dodge briefly.

Wyatt Earp and the "Buntline Special" Myth ,
by William B. Shillingberg, 1976, KanColl
New Buntline Special Reconsidered Original research 2006