McCarty Speedway
Dodge City, KS
1956 Trophy Dash Champion Team
Junior Maupin, No. 98 Jalopy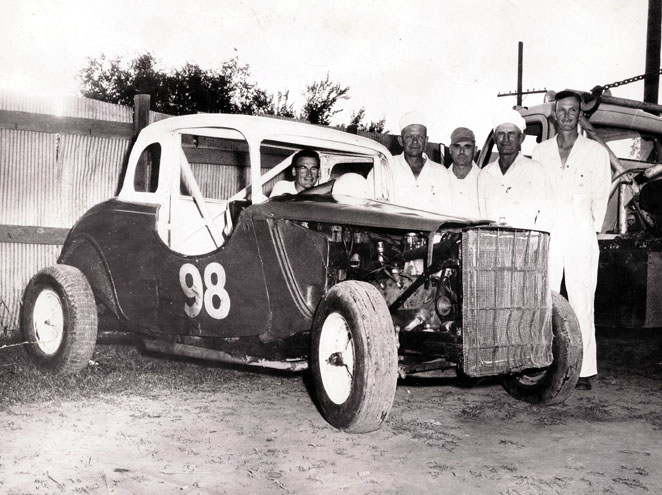 1956 Trophy Dash Champion Race Team, McCarty Speedway, Wright Park, Dodge City, KS.
Junior (Cecil) Maupin, Jr. driver, with (from l.) Hank (Henry) Palmer, car builder; Bud Stanley, chief mechanic; Burney Faulkner and unknown -- the 1933 Ford coupe jalopy racer's first-class crew, rare in 1956. Note matching overalls and bill-less caps, and also infamous McCarty Speedway's tin fence in background.
No deaths were recorded at races on McCarty Speedway, which featured two dirt tracks -- a 1/2-mile track for motorcycles and horses, and a 1/4-mile track for cars. Photograph courtesy: Roger and Troy Burnett, Dodge City, KS.