McCarty Speedway
Dodge City, KS
1955 Champion Bob Champlin
No. 98 Jalopy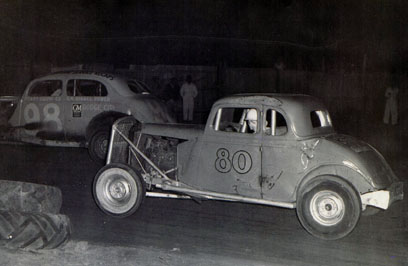 1955 McCarty Speedway Track Champion, No. 98, Bob Champlin, Wright Park, Dodge City, KS.
Owner, Junior (Cecil) Maupin, Jr. Local sprint car racer Bob Champlin, driver. In second is No. 80, later the 1956 track champion, Stanley Trahern, driver.
McCarty Speedway featured two dirt tracks -- a 1/2-mile track for motorcycles and horses, and a 1/4-mile track for cars. No deaths were recorded. Photograph courtesy: Roger and Troy Burnett, Dodge City, KS.