The Mueller-Schmidt House (1881) Museum
Dodge City, KS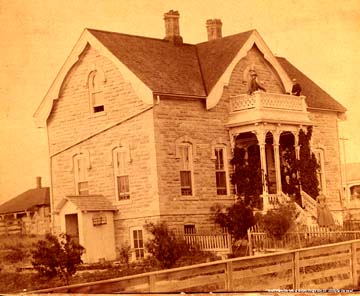 The John and Karoline Mueller family on Emelia Mueller's wedding day, June 12, 1889, Dodge City. John and son Henry on balcony; Emelia on lower step; Karoline and groom, John Chambliss, on porch. Courtesy: FCHS.
In an 1882 bird's-eye view of Dodge City, the Mueller-Schmidt House is proudly perched atop a hill northeast of town, alone in its new splendor and surrounded by a yard planted with trees. Built to be one of the most splendid homes in Dodge City, Ford County's "Home of Stone" lives up to this, even today. It remains the lone lime stone house in Dodge City, elegant in its simplicity of line. It can also claim the distinction of being the oldest building in Dodge City that is still on its original site.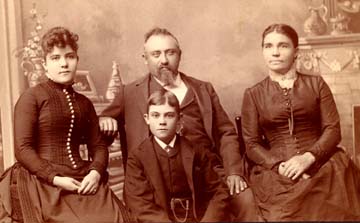 German immigrant John Mueller, his wife Karoline and children came to Dodge City in 1875 by way of Abilene and Ellsworth, Kansas, from St. Louis, Missouri. His boot shop on Front Street did well enough that he was able to invest in a saloon and three cattle ranches. In 1879, he started building his home. The Ford County Globe, April 29, 1879, reported that John Mueller started having the "rock hauled from the Sawlog for his new residence." It took 18 months to build and was completed in 1881, with a housewarming party held that October 30.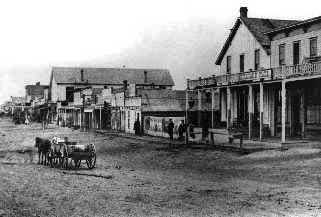 Front Street, Dodge City, KS, c.1879, looking west from Atchison, Topeka and Santa Fe train depot. John Mueller's bootshop, the first in Dodge City, with black boot in front, is third building from right. Mueller bought the land from Robert M. Wright on November 11, 1875. Mueller sold it on September 13, 1881. Cox and Boyd's famous Dodge House hotel is second building from right.
     William Hessman, a fellow German, was hired as the stonemason, quarrying color-selected limestone from the Sawlog Creek northeast of Dodge City. This same quarry supplied the limestone for nearby Fort Dodge. Another German craftsman, William Strubel, did the woodwork. Using walnut, he crafted the spiral staircase; this outstanding feature is visible from the foyer as it winds upward. The newel post is inset with bird's-eye maple.
     From the foyer, the Muellers' bedroom was to the left and today houses the Ford County Historical Society's Pioneer Mothers' collection. The parlor to the right features original furnishings, including matching walnut chairs, a horsehair tapestry chair, and a walnut love seat. There are also pieces donated to the Society, including the desk where Dodge City founder and Town Company President Robert M. Wright wrote Dodge City; The Cowboy Capital (1913). The bedrooms for Emelia and Henry Mueller are upstairs. The kitchen is in the basement.
The Mueller-Schmidt House Museum kitchen, built in 1881.

     After the great blizzard of January 1886, John Mueller lost all his cattle (75,000 head) and had to go back into bootmaking. After two disastrous Front Street fires, he returned to St. Louis in 1890, with his wife and son. His daughter, Emelia ("Millie") remained in Dodge City with her husband, John Chambliss. They were married June 12, 1889, in the Mueller-Schmidt House parlor. Fifty guests attended for dancing and dinner.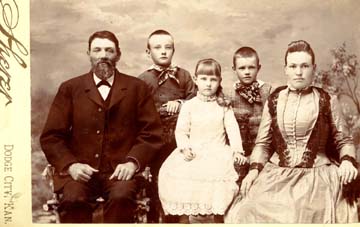 On March 4, 1890, the home and furnishings were sold to Adam and Elizabeth Schmidt for $5,000 (c. $400,000). The deed (No. 3) lists Karoline Mueller as seller; Elizabeth Schmidt as buyer. Adam ("Gerry" after Giuseppe Garibaldi, the Italian hero) was a blacksmith in Dodge by 1874; Elizabeth "Betty" was the daughter of Fred Berg, Dodge City's first baker. Karoline Mueller and Elizabeth Schmidt remained friends and Karoline often visited Elizabeth when she came from St. Louis to see her daughter. Henry Mueller would spend hours in the house, visiting it through the 1940s.
     Adam died in 1911, and the family continued to live in the Mueller-Schmidt House. Elizabeth passed away in 1938. The Schmidt children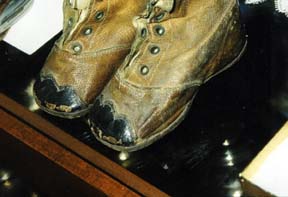 Heinie (Heinrich),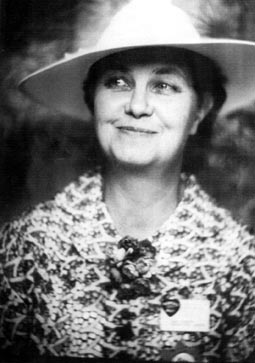 Elma, and Lew (Louis) grew up in the House. Heinie and Elma never married and lived in the House until 1960, selling it and its furnishings to Ford County in 1965. Only these two families have lived in the Mueller-Schmidt House. You can still see the parlor, basement kitchen, bedrooms, and the exterior of the Mueller-Schmidt House as it was in 1881. Come walk back into history, standing where the pioneers of the Old West and Dodge City lived, danced, ate and partied. The Ford County Historical Society is curator. It is listed on the National Register of Historic Places.
(© 2002-2014, Ford County Historical Society, Inc. Ann Warner, author)