Old West Photograph Gallery
from the Ford County Historical Society, Dodge City, KS
Braddock Photograph Archive
All rights reserved, FCHS, Inc.
Please wait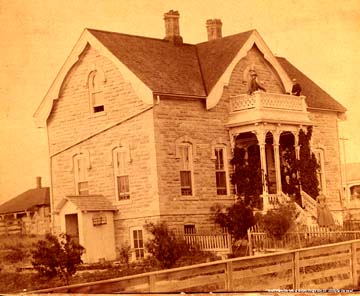 Mueller-Schmidt House (1881) Dodge City, Kansas
Emelia Mueller and John Chambliss Wedding Day, June 12, 1889.
FCHS Mueller Collection.
Mueller-Schmidt House panorama virtual tour
Emelia, in wedding dress, on bottom step; Karoline Mueller and John Chambliss on front porch; John Mueller and 15-year old son Henry on balcony. The wedding, at 9 p.m., with 50-people eating and dancing in the house, had a guest list with most of Dodge City and Ford County pioneers. Chalk Beeson, Long Branch saloon co-owner, and his "silver cornet band" played the music in the parlor. That night John and Emelia left on the midnight train for their honeymoon in Denver before moving to their new home at Ft. Reno, IT (Indian Territory). Henry's carved initials, HJM, are still preserved on the right side of the window seen behind John.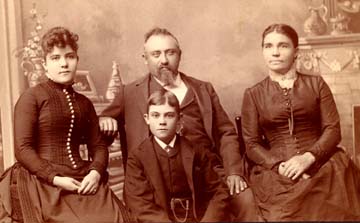 John and Karoline Mueller with children Emelia and Henry, 1888. Returned by Henry Mueller to Heinie Schmidt. FCHS Mueller Collection.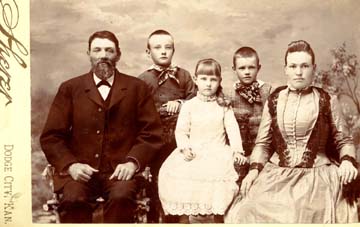 Adam and Elizabeth Berg Schmidt with children Heinrich (Heinie), Elma and Louis (Lew). Circa 1889. FCHS Schmidt Collection
Adam came to Dodge City in 1874 and started a blacksmith shop on the Santa Fe Trail (now, Trail St.). He married 'Betty' (name on wedding license) in 1882. She was 19; he was 41. Heinie was born in 1882, Lew in 1884 and Elma in 1885.
Elizabeth 'Betty' Berg Schmidt
Last photograph, circa 1938

Found in Elizabeth's funeral book, photograph is taken from her bedroom into the foyer and parlor of the Mueller-Schmidt House. She was the daughter of the first baker in Dodge City, Frederick Berg. In March 1878, at age 16, she arrived by train to join her family. She married Adam Schmidt in 1881. He died in 1911. Her death was on December 1, 1938.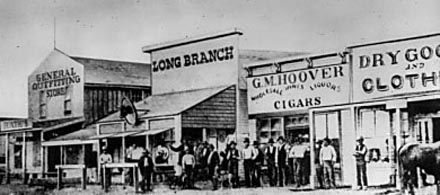 Front Street, Dodge City, Kansas
The 1874 view of Front Street, left, with Frederick Zimmermann's gun and hardware store, George M. Hoover's liquor and cigar store, Chalk Beeson's Long Branch saloon and Charles Rath and Robert Wright's "General Outfitting Store" all at the end of the second block west of the train depot. Front Street replica on Boot Hill is based on this photograph. Famous 1879 photograph, right, taken from east end of Front Street, looking from the Atchison, Topeka and Santa Fe Railroad depot area. Kelley's Hall (marked 1) is large sharp roof across the middle. John Mueller's boot shop (marked 2), was on land purchased by Mueller on November 11, 1875, from Robert M. Wright. Mueller sold it on September 13, 1881. George B. 'Deacon' Cox and A.H. Boyd's famous Dodge House Hotel (marked 3) is on the right side. Cox and Boyd purchased their lots in 1874, with Cox buying out Boyd in 1882.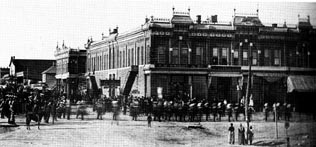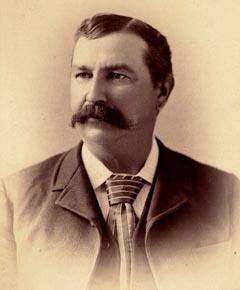 Dodge City Town President
Robert M. Wright's Desk and Portrait
Mueller-Schmidt House Parlor
Robert M. Wright wrote Dodge City, the Cowboy Capital at this desk between 1911 and its 1913 publication. Wright looks down from his own copy of his portrait. In the 1880s, Wright's general store on Front Street (circa 1885 brick building, corner store) had over $200,000 a month gross income. He died broke in 1915.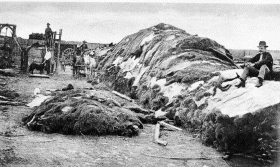 Charles Rath
and Rath House (1877)
Dodge City
FCHS Rath Collection
Charles Rath, one of the first three Ford County Commissioners, in Robert Wright's buffalo hide yard in 1878. Rath is seated on rick of 40,000 hides. M.W. (Doc) Anchutz (in white shirt, back left), a baler from Meade, Kansas, said, "We had as high as 70,000 to 80,000 hides at times in the yard." Prices for the hides ranged from 80 cents to $4 each. Most were used for industrial belts. The Rath Trail (from Dodge City to Rath City, Texas) was unique, being the only trail established for buffalo hunters. Right photograph is Rath house, 1877. Mrs. Robert Wright, left, Mrs. Carrie Rath in doorway, her mother Katherine Markley on right. Carrie is expecting son Robert--born October 16, 1877. He was a playmate of Henry Mueller in the Mueller-Schmidt House.
The Rath-Bainbridge
Christmas Dinner, 1897
Rath House
FCHS Rath Collection
Self-photograph by Charles Rath's 20-year old son, Robert Rath, left, with a cable to his camera. Thomas Bainbridge is standing with Carrie Rath Bainbridge at end of table, and Bertha Rath, Robert's sister, sitting with his half-brother, Roy Bainbridge. Robert's step-father Thomas worked for the railroad and was to die in an accident less than two years later. The house, built in 1877 by Charles Rath, was located where the historic Dodge City Carnegie Library (1907) building now stands. Robert played with Henry Mueller in the Mueller-Schmidt House. Ida Ellen Rath married Robert Rath much later in his life.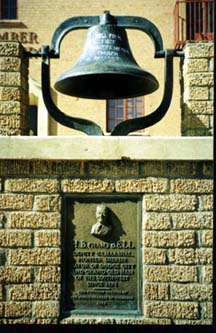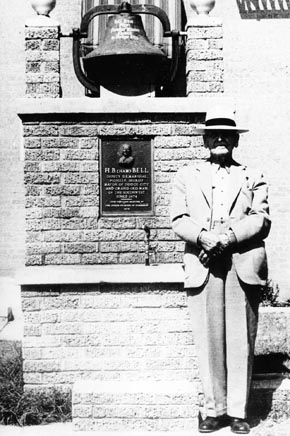 Ham Bell Memorial (1939)
Boot Hill, Dodge City
Hamilton Butler Bell, longest living Old West Sheriff and Marshal. Ham remembered the end of the Civil War and had his name on a WWII Army Air Corp plane. He never shot a man--saved some cowboys from the "Earp gang"--and outlived all of his Western associates. Arriving in Dodge City in 1874, he lived in Ford County until his death in 1947. He was the first president of the Ford County Historical Society, 1931. The bell from the Union Church, the first church building in Dodge City, is on top.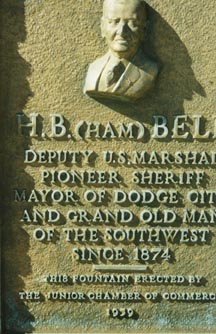 Ham Bell Memorial Details
The text reads: "H.B. (Ham) Bell, Deputy U.S. Marshal, Pioneer Sheriff, Mayor of Dodge City and Grand Old Man of the Southwest Since 1874. This fountain erected by the Junior Chamber of Commerce, 1939."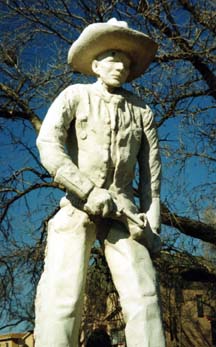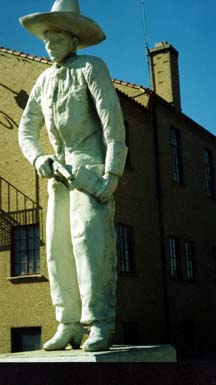 Cowboy Statue on Boot Hill
In front of old Dodge City Hall (1929)
Dr. Oscar Simpson, DDS, pioneer Dodge City dentist and inventor of the gold inlay process for filling teeth (patent finally won in 1912), had his old pioneer lawman friend, Joe Sughrue, lay in a box while a mold was made with plaster. Dr. Simpson filled the mold with concrete. The statue has been on Boot Hill since 1929. Dr. Simpson also made the first Boot Hill tombstones for tourists to view.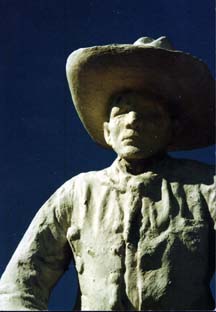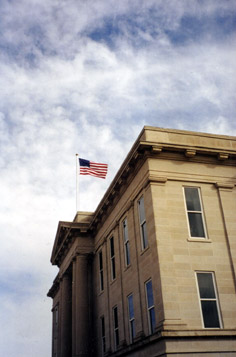 When Simpson arrived in Dodge City by train, his tall silk hat was the target of a bucket of water from a Front Street bartender. Story goes that Simpson picked up a rock, threw it back and broke the cut glass from the bar back. Dr. John Henry Holliday is the most famous Dodge City dentist, although 'Doc' Holliday was in the city only a summer.
The current Ford County Court House was built in 1913, replacing an 1880s building. [Cowboy statue photos and Ford County Courthouse: ©2000, G. Laughead Jr.]
(© 2002-2008, Ford County Historical Society, Inc., except as noted) Updated: 10 October 2008.
Funding for the conservation of FCHS photographs

from The Kansas Humanities Council